PRE-CRASH SAFETY SYSTEM
When the radar and camera sensors detect a collision with a vehicle ahead is likely, it alerts the driver and activates pre-crash brake assist when the driver depresses the brake pedal. If it determines a collision is difficult to avoid, the pre-crash brakes and pre-crash seatbelts also operate.
DYNAMIC RADAR CRUISE CONTROL
In addition to maintaining a constant speed, Dynamic Radar Cruise Control uses the radar and camera sensors to detect a vehicle driving ahead and maintain an appropriate distance between vehicles at all speeds.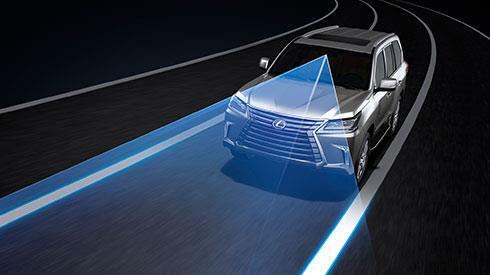 LDA(LANE DEPARTURE ALERT)
LDA alerts the driver with a sensory alert using steering wheel vibration or a buzzer, and on the multi-information display if the system judges the vehicle is about to cross the lane markings without using the turn signals. In addition, Vehicle Sway Warning monitors steering operation and the vehicle's position within a lane to detect vehicle sway due to driver inattention or drowsiness, and alerts the driver by a buzzer and on the multi-information display.
AHS (ADAPTIVE HIGH-BEAM SYSTEM)
When the system detects a vehicle in front, it disables/enables 11 independent LEDs in each headlamp to optimize light distribution, so that the high beams do not directly illuminate preceding or oncoming vehicles when driving at night.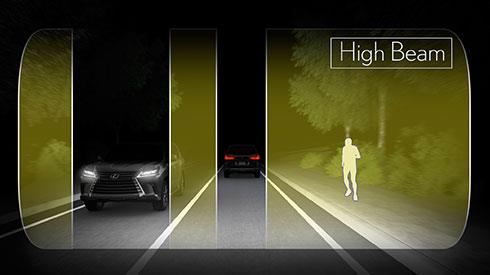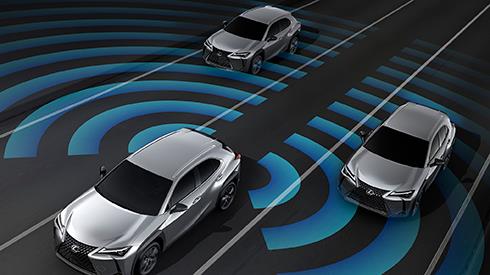 BLIND SPOT MONITOR SYSTEM
When the quasi-millimeter-wave radars in the rear bumper detect vehicles up to 60 meters behind in adjacent lanes that aren't visible in the door mirrors or are rapidly approaching the blind spot, the system activates a warning indicator in the relevant door mirror the moment a vehicle enters the blind spot.
RCTA (REAR CROSS TRAFFIC ALERT)
To assist safe reversing, RCTA uses quasimillimeter- wave radars in the rear bumper to detect approaching vehicles in difficult-to-see areas behind the vehicle. When an approaching vehicle is detected, RCTA alerts the driver using a buzzer and indicator in the relevant door mirror.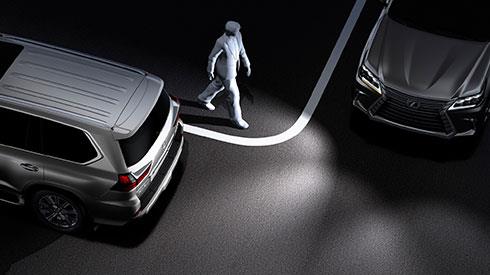 LED WIDE-ANGLE CORNERING LAMPS
Compact, bright and energy-efficient, the LED wide-angle cornering lamps provide additional illumination in the direction of travel, to the side and above, enhancing pedestrian visibility when turning at intersections.
SRS AIRBAGS
The LX is fitted with ten SRS (Supplemental Restraint System) airbags: dual-stage SRS airbags (Front seats), SRS knee airbags (Front seats), SRS side airbags (Front and outboard second row seats), and SRS curtain shield airbags (Front door, rear door and rear quarter windows).